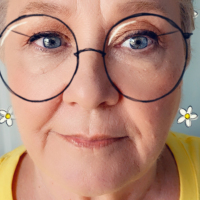 Gem Sivad
Contemporary Romance, Historical Romance, Paranormal Romance, Women's Fiction, Fantasy
Hi. I'm Gem Sivad. Nice to meet you. I live in the southern part of an enchanted kingdom, commonly known as West Virginia. Here I enjoy the slow pace of life, study the world, and tell stories about incredible things.

Whether I'm writing in a nineteenth century setting or in a paranormal world of witches and shifters, my heroines are always resilient, resourceful, and smart, and my heroes are wickedly dangerous and seriously hot.

Although I have hermit tendencies, occasionally I come out of the writer's den to meet readers at book signing events. Hope to meet you there.
Video
Breed True; Wolf's Tender; Five Card Stud; Trouble in Disguise
Solitary trees, if they grow at all, grow strong.
Winston Churchill